套用特效框抽好禮
歡迎套用 FormosaPride 2018 特效框~
讓更多外國友人知道我們台北十月底遊行 & Formosa Pride 遊行啪啪趴
而且還有機會拿到精美禮物(金)喔~

( 去年共有 420 多位朋友套用三款 formosa pride 特效框~一起推廣台灣的觀光遊行&趴趴趴活動)
套用步驟
1
只要更換大頭貼時加上特效框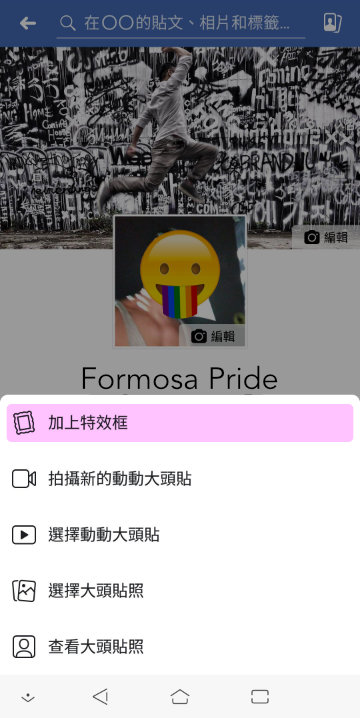 2
輸入 formosapride搜尋3款特效框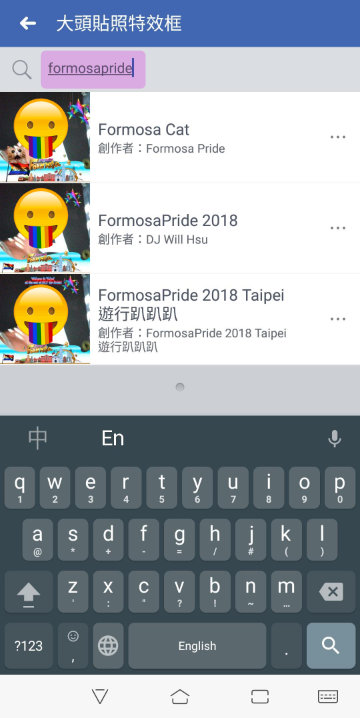 3
選永久顯示,累積更多讚數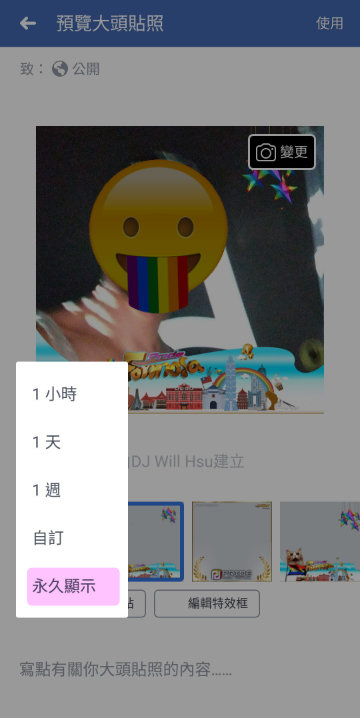 活動辦法
一張特效框截圖只要超過 15個讚~即可截圖參加活動
目前有三款(有一款是 喵喵款),請自行選用。

每使用一款~就可以多一次抽獎機會~

與我同框至 2018/10/01 截止~
請於以下時段 2018/10/01 晚間 20:00 以前,將你的特效框照總讚截圖,寄給我們查驗 [email protected] (逾時不收件)

2018/10/03 公佈抽獎名單~方便大家查驗 抽獎名單
2018/10/05 我們會舉辦抽獎直播,抽出前十名的朋友。

最後收件期限:2018/10/1 晚上 20:00
直播抽獎
2018/10/05 晚間八點 於我們紅樓票口 二樓
黃媽 Austin 會進行直播抽獎
將抽出 10 位朋友,依序獲得下列獎品

第一名~三名:獎金 2000 或兌換週六單場 VIP票…1份
第四名~六名:週五單場 VIP票…1份
第七名~十名:週五單場 一般門票
第一至十名都會再贈送 FormosaPride 2018 紀念背心禮 & GX3 彩虹護腕一份
兌獎時間~將設於十月遊行周 2018/10/25~30
至 黃媽處 領取
歡迎海內外朋友踴躍參加!歡迎分享 一起遊行趴趴趴~
本活動歡迎所有人參與( 外國人也非常歡迎 )
Win Prizes by Add frames
Welcome to use our FormosaPride 2018 profile frames.
Let more overseas friends know we are going to have a pride parade and Formosa Pride parties at the end of October.
There are chances to win prizes (including cash) by using our frames.

(Last year, more than 420 people used three sets of our special effect frames to help us promote the Taiwan's tourist spots, the pride parade and parties.)
3 Steps to Add the Frame
1
Add Frame to your profile photo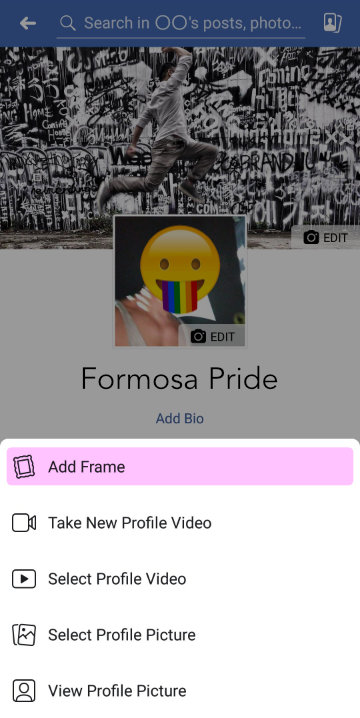 2
type formosapride to search our frames.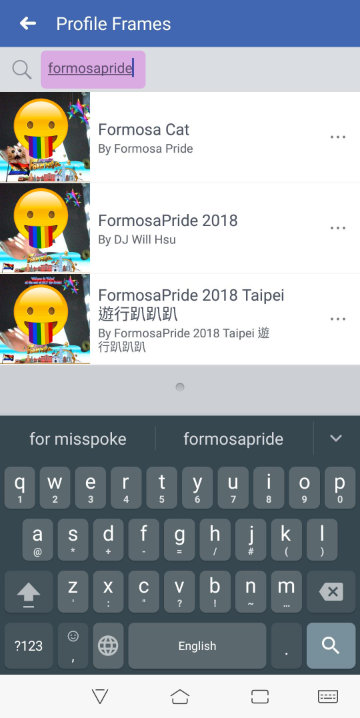 3
Make Permanent to collect more likes from your friends.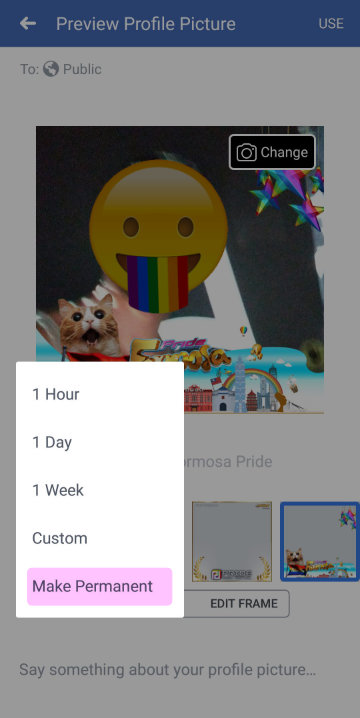 Campaign Rules
After you get more than 15 likes, ~you can screen capture your profile picture with our frames and send it to us in order to take part in our prize drawing activity.
There are three sets of frames (one has cat design). Choose any of the three you like.
You will be able to get more than one chance for prize drawing if you use more than one set of our frames.

The activity will last until Oct 1.
Deadline is on 20:00, Oct 1, 2018 (No more acceptance after the deadline)
Please send your screen captured profile picture with our frame to us for checking at: [email protected]

Oct 3: Revealing the attendee list
Oct 5: FB live streaming for prize drawing

Campaign Deadline: 10/01/2018 PM 20:00
Prize drawing through FB live streaming
At 20:00 on Oct 5, the prize drawing will be held at on the second floor of Red House. Austin Huang will draw the prizes through live streaming for: 10 lucky winners.

First to third prizes: Cash prize N$2,000 or you can exchange it for a VIP pass for the Saturday party.
Fourth to sixth prizes: One VIP pass for the Friday party
Seventh to tenth prizes: One standard pass for the Friday party.
First to tenth prize winners will each be given a FormosaPride 2018 souvenir vest and a GX3 rainbow color wrist band.
Prize collecting: Between Oct 25 -30 during the October pride week
At: Austin Huang's
All are welcome to join us in the activity, including guests from overseas